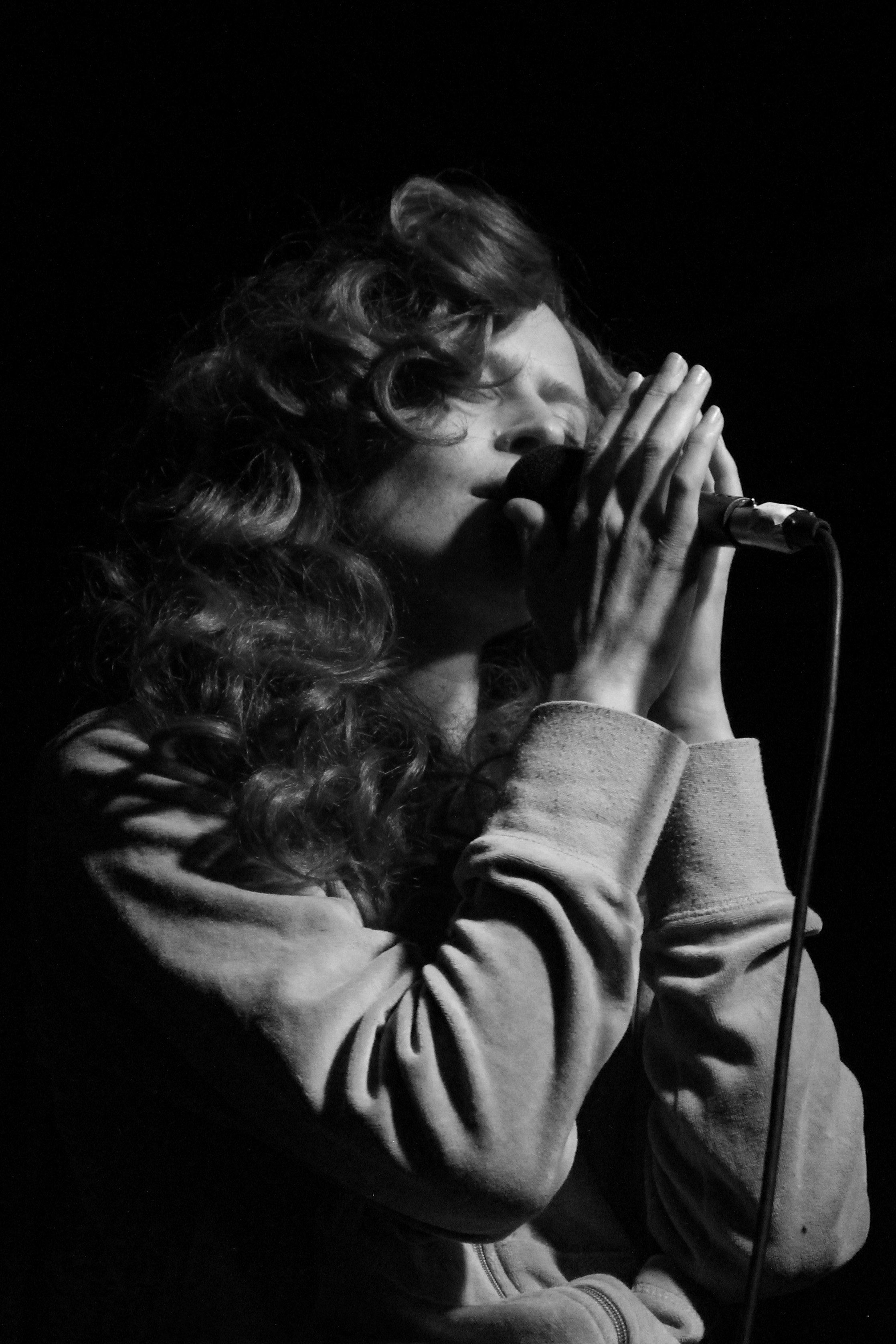 Jenny Hval
words and photography Lamont Abramczyk
"Think big, girl, like a king, think king size"…. low fi elements begin to emerge above a contestant shuttering of percussion. Okkyung Lee's bow shutters across cello strings, and an aching, diluted moan gently radiates below spoken lyrics, only to be interrupted by a longing question, "What is soft dick rock"?
Apocalypse, girl is caked in metaphor and social criticism. It offers listeners a soothing and translucent narrative, yearning you to delve within its phallic language and sexual undertones to discover a vastly personal record. There is no questioning the musical artistry of Jenny Hval. A far cry from the touch and go bravado of 2013's Innocence is Kinky, her latest endeavour offers listeners a more intimate experience. Guitars have been traded out for harp and cello, creating more transgressed pop compositions, and the album has an overall more whimsical, dreamy feeling. Norwegian artist Lasse Marhaug heads production on the new record, and offers an expansive line up enlisting the help of acclaimed musicians Thor Harris (Swans), and Øystein Moen (Jaga Jazzist/Puma), Okkyung Lee (improv cellist) and Rhodri Davis (harpist). Håvard Volden and Kyrre Laastad also reappear in the line up.

Jenny Hval touches on a number of contemporary themes throughout the album, ranging from perceived gender conventions to positive self doubt and unrestricted sexuality. Stand out tracks such as "The Battle is Over" provide observations on female domesticity with sarcastic rejoice touting the end of feminism and socialism, a brash attack on those undermining ongoing social reform. Age also appears to be a factor on the track, Jenny questions her place in society as a women approaching her Jesus years: "Eight years since 25 now / and all that ages now is the body / I wonder why / I think to myself one of these days everything I write begins with the question, what's wrong with me"? Other songs such as "Sabbath" present a dream like narrative, examining sexual self orientation and drawing metaphoric parallels between anamorphous content and gender transition. A fan of Kate Bush, it has been noted that Hval may of found inspiration in "Get out of my House".

Jenny Hval draws influence from a wide variety of musicians, artists, poets, and scholars. The likes of Mette Moestrup, and Franco Berardi resonate throughout her tracks, while visionaries such as Todd Haynes are trumpeted in her live performances. She can be found dawning a pink jumpsuit, and red wig during more intimate live performances, embodying Carol White (Julianne Moore) in 1995's "Safe".

Apocalypse, girl has thus far been met with strong critical acclaim, and continues to elevate Jenny Hval through the music world. Earlier this year she toured with Perfume Genius, and St. Vincent, before taking time out to embark on her own European and North American tour.
I caught up with Jenny in the midst of her busy schedule to talk about the new album.


First of all congratulations on the new record. What have you been up to since the release of Apocalypse, girl?
I've been playing lots of shows and preparing for various different ways of playing the songs and performing onstage. I've been on tour and preparing for various other shows which is great. My band is now a group of people, but it changes a little bit, and we've developed a variety of different ways of performing this material. We've done a feature show, we've done a stage show with lots of video work, we've done a bigger stage show without video but instead lots of performance art, and we've developed various kinds of small and very relaxed and pretentious ways of playing as well involving more things we've found and decided to do.

It's been a very short time since it's happened so I feel like I've been living with the album in a really great way and expanding it over the last couple of months.
Sonically, your approach to Apocalypse, girl seems very different to 2013's Innocence is Kinky. John Parish has been replaced by Lasse Marhaug, and the likes of Thor Harris, and Øystein Moen have been included in your orchestral accompaniment. Your lyrics have become more personal, and derive from various art criticisms and philosophies. How did this transition influence your writing process, and what are some of the reasons behind this artistic transition?
First of all I wouldn't say anyone's been "replaced". I (personally) wouldn't say that, I mean that's certainly how it can be stated but for me it was never like that. I think every project is not something I decide upon, I don't bring in the people that I've thought out – it's more just a process of living so if anything, it's reflecting how I bring my life and my art together.
Since I did the Innocence is Kinky album I was playing a lot of shows and travelling, and living in America for a few months…so I think that what happened with this album was I met some people in various life situations which I thought of when we started recording again, and I knew Lasse from being around and playing. I did feel like I needed to do something that would take a long time and that meant being in Norway, so that was the first collaboration that happened.
Lasse and I were going to be working for a long time and that suited his way of working as well, then we started thinking of people, and they happened to be amazing people like Thor, and Okkyung (Lee), and Rhodi (Davis) on harp. These are people I've met in the last fifteen years and really admired. It was kind of a homecoming a little bit, so that suited very well with a more personal approach. If that does mean bringing in more people than I have previously, then it means bringing in people I've met and reached an understanding of there music, and hung out with, and things like that. This music was really personal and that contributed to the album staying personal even with expansive players and sounds.

 
You attended the university of Melbourne where you specialized in performance and creative writing. How did you end up on your path to becoming a musician?
I was playing music before I was studying almost anything else. I went to music high school, but I didn't really see myself becoming a musician then. When I studied, I studied creative arts so that was almost everything from fine arts and performing arts combined together. I achieved a variety of things but never did music, so music was the thing I did to blend it all together at home. It became my own thing rather than a school thing. I put all the academic stuff I'd learnt at university into it. It was a space of freedom, and it was this space of freedom which I actually became most interested in exploring. You can kind of tell by the way I sound on the album, I guess, with lyrics and my way of addressing the listener, it's quite direct and I'd also say speaking very freely. It's all very natural.
I think music is a way of connecting a lot of art forms, at least for me. It's kind of unpretentious because no matter how many fine art influences you've got, when you're playing a show, unless you're very famous, you're standing in a really dirty cock so it's actually quite a mundane life. You're among people who are just going out on their regular Tuesdays or Fridays to a very unpretentious place, and that as an area for exploring more difficult art forms and art forms of the mind takes a different kind of concentration. That's something I really love.
One of the most compelling aspects of Apocalypse, girl is your honesty. It's an incredibly personal and intimate record that breaks a lot of social stigmas, and also includes a colourful palette of phallic references. Growing up in Australia, I personally love the word "cunt" and use it quite frequently; however, some of the language used on the record certainly hinders its accessibility. Is this something you were conscious of when writing this record?
I chose to ignore it. I think that it's a shame that most of the mainstream audience will quiver at the sound of "cunt". They'll probably be thinking about that word all day anyway and say it a lot. These things are extremely common, this language is very much everyday language even if I use words in a very different context which is not so everyday. I do think that this way of speaking, and the way I write lyrics, could be very accessible to a lot of people, but they would have to get over, and think twice about what music is.
Music is meant to be a form of escapism, and something to relax with, but that's just not the way I see music. That's to limiting to me. I love those things but it has to be more. I don't think I could of made music if I was thinking about these things. If I was thinking about things like radio, and formatting, and the music industry I probably wouldn't have made anything. It's a lot to think about, and if you think about it all, you won't actually have any time to make anything. I think a lot of people who make a lot more mainstream music are probably comfortable with it.

 
Earlier this year you toured alongside Mike Hadreas (Perfume Genius), another critically acclaimed artist dedicated to challenging gender conventions and sexual repression. With the steady growth of equality advocating performers in pop culture, especially those within the transgender community (such as Laura Jane Grace, and Caitlyn Jenner), do you see parallels between today's movement and that of the late 80's and early 90's?
I think in my world, because you mentioned Perfume Genius, I guess what I would like to see is a world where someone like Perfume Genius can become a real, full on, pop star…..If he wants to [laughs]. I think that there was a time in the early 90's. in particular, where very strong and very different voices could be given a lot of space commercially, which I don't really see happening right now. I see that the industry isn't for it, but I see that thing happening in the extreme mainstream which is really great.
In terms of politics, it's a very teasing kind because on one hand you have these steps forward like legalizing gay marriage and trans people being more visible, certainly a lot more visible in the public eye and things are happening. There's a new feminist political party here in Norway, and there seems to be this great energy but what's lacking then is on the other hand, there's also a very difficult economic situation and the film and music industry is in such a crazy time of change. There's so much less money. I hope people can get enough courage again so we can really push it, and then people like Perfume Genius can become really huge. He deserves to be.
I went to a festival he was playing here in Oslo a couple of days ago and got I got to see The Julie Ruin with Kathleen Hanna, which was amazing. I was thinking, "This is one of the most contemporary artists in this place." Even with a lot of the young artists with new music and more contemporary sounding stuff, she was a true highlight of somebody who is just in this world. Maybe that's a parallel.
I really like that about music festivals. It really grants accessibility to a lot of artists that you mightn't generally listen to or go to see. It really helps to reach a wider audience.
It does, yeah. The artists that are out of the ordinary rarely get booked to festivals unless festivals are more instrumental. This festival is a little bit different – it's a slightly more alternative in profile. I think a lot depends on where you live. If you're in Europe, there are a lot of festivals for a lot more instrumental music which is not the case in the US. I'm not sure what the case is [for all of] North America – it might be different. It's one of those things where people just need the courage to front voices who truly are different and we need to look beyond the commercial stereotypes that are visible in music. We definitely need more diversity in terms of gender, and race, and ethnicity, and just how we see the world. Music is culture, and culture is art, and that can be a reflection of how we see the world.

 
On "Kingsize" you reference Franco Berardi's writings on the No Future movement, and your search for a subculture that wasn't about growth. Did personal motives initiate this search? What invoked your fascination with the No Future movement?
I think that's too difficult to reply to because it's so academic that I'd have to go back to his books. But I'm really happy that you actually noticed that. I'm not saying "no" and then a "," and then "no future". I really found no No Future, not a no future. I was reading…Hang on let me get to my bookshelf…I was incredibly fascinated by him, I read several of his books. I've never studied political theory or philosophy so I wouldn't be a very good academic comment on his work. People would just laugh at me I think, but when I read After the Future I got very much into this idea and opened my eyes to this link between futurism and capitalism, or like looking at growth, and capitalism…and how proving that the way that we look at future and parallels between that and antitectualist existence.
I don't know if I really have a comment, maybe you do [laughs]? But I definitely didn't see much progression happening in New York when I was there…mind you, I was there for two months. So I didn't do it justice but I kept hoping I would find something I couldn't find, and part of that was probably stuff that would have been in New York if it hadn't changed so much and became so expensive and gentrified.
Right…Okay I think that's a good answer [laughs]. You sum it up as best you can, I like that.
Good. I think that it's very hard to be inspired by all this academia. I'm not just putting it down as academic because it seems like its really cerebral – truths case many writers say it's not about being academic but I just fear I wouldn't do anybody justice.
"In New York I don't dream. I always wanted to be less subculturally lonely, but here I see no subculture. No, No Future. No big science. No big bananas. But I found no, No Future." – Jenny Hval (Kingsize).


You're influenced by a wide variety of artists and thinkers, from Kate Bush to Sophie Calle, Franco Berardi, and even Todd Haynes. If you could work with any artist you like, past or present, who would it be and why?
Mostly artists I very much look up to, I don't think I'd want to work with them. I would be too much in awe of their way of thinking, so I don't think I could actually contribute anything. I like to work with people who I meet and find a good, magical, kind of link to in the ways that we think. That is a much more valuable way of looking at collaboration for me than someone who I admire because of what they've already done.

 
In previous interviews you often mention your love for cinema and the significance of visual representation in art. Your past video for "The Battle is Over" depicted the unraveling domestic pursuits of various women, and mimics the sarcasm found in some of the song's lyrics. It takes on quite literal forms of representing the messages conveyed in your writing. Your latest video for "Sabbath" seems to go in another direction, embodying more of a performance-driven approach. Can you tell me about the intent behind the "Sabbath" video?
The "Sabbath" video turned out to be what it had to be because he had to make it while we were on tour. It's a lot more abstract – we thought it would be a take on the song and all, but it's more like a video in its own right. With the music, it's more about using certain elements, certain sonic elements and rhythm. We used slow motion throughout the entire video because it's shot on an iPhone that has the slow motion feature. For me it relates a lot to the production of the song actually, this very sort of almost casual human collaboration with lots of laughing and dancing and almost tour document meets dreamy slow motion. And we've got images that aren't quite real.
So that reminds me very much of the process that started in a studio setting. It's like extending reality, which also does appear in the lyrics. We're talking about two such different videos in terms of the take on the songs. There are sonic qualities, even though they're not easy to talk about – they're very much part of how the listener hears the song. If the beat sounds like it's been recorded on real drums then put two tape recorders, the speed of change, those things actually really matter a lot to how we hear, even the lyrics.
What's next for Jenny Hval?
US tour…and then more tour…and then I don't know what else.


What creeps you out the most?
Expressions of human emptiness.
…
­
Apocalypse, girl is out now via Sacred Bones Records.
You can check out more from Lamont here: akacourier.tumblr.com | IG: @akacourier
Posted on September 15, 2015