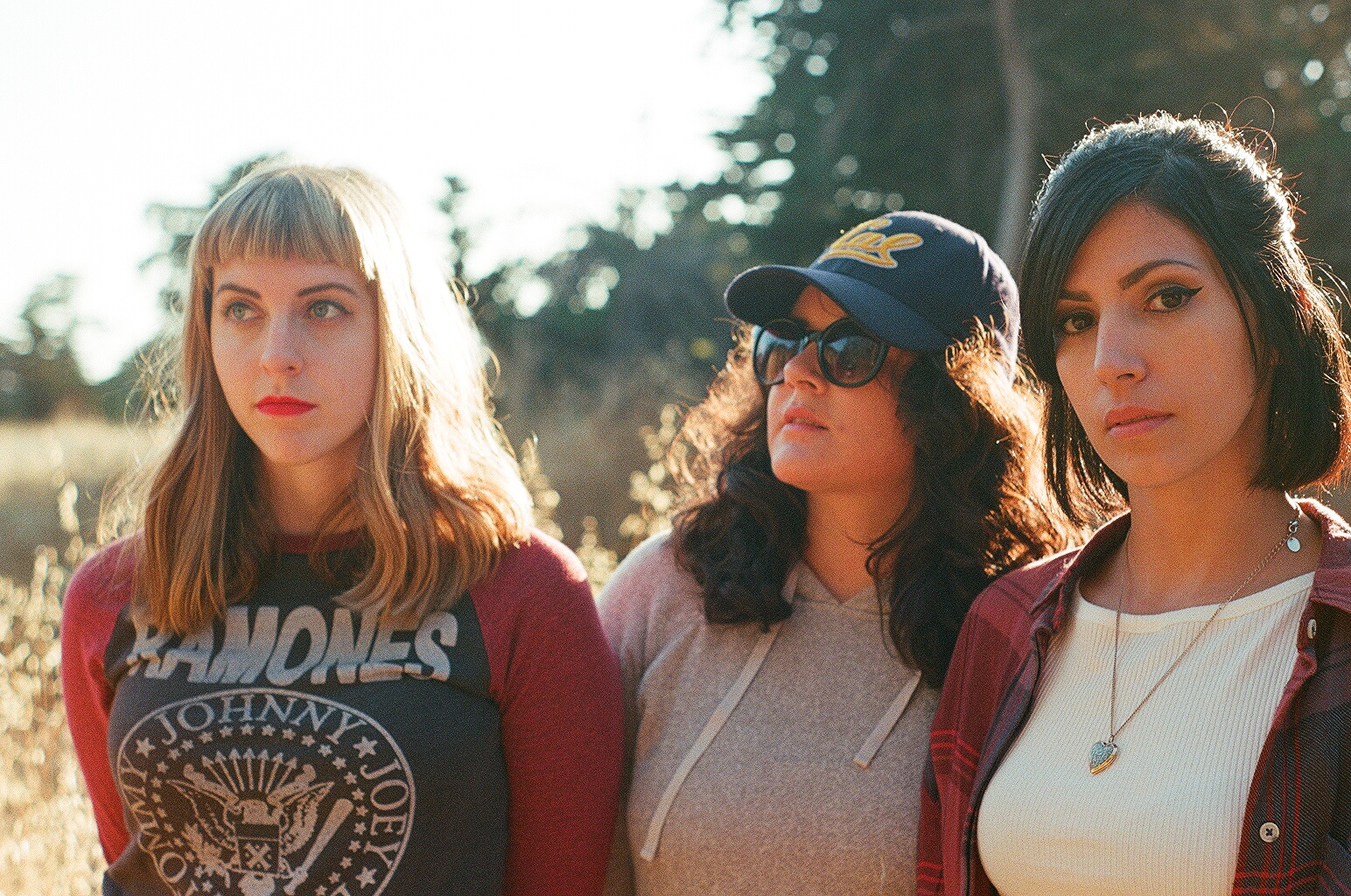 Night School: I Love When You Get Sweaty and Play Hard-Core
words and photography Katie Small
"I love when you get sweaty and play hard-core."
Based out of Oakland, California, Night School is a three-piece garage band consisting of Lexy Morte, Baylie Jimenez, and Cheyenne Avant. Their sound combines poppy-beach melodies anchored by melancholy vocals, at times veering towards gritty punk and screamy angst delivered with gusto. The Best Coast influence is undeniable, and the band actually opened for Bethany Cosentino last February at Bottom of the Hill in SF. At present, their short but striking song portfolio is decidedly less repetitive than their more famous counterpart, still California-pop, but the kind that makes you sad-happy. The name of this article references lyrics from the third track of their Heart Beat EP, which will be dissected at length in the fourth paragraph.
Night School started a few years ago when lead singer Lexy and drummer Baylie met through mutual friends. After working on their first song, "Best Friends", the duo became a trio when bassist Cheyenne was recruited. To hear Baylie explain it: "Cheyenne and I actually went to high school together but I didn't meet her until less than two years ago. She had moved to LA but was planning on moving back. I knew she could play bass and I asked her if she wanted to come check out a practice some time and see if she liked the music and all that. Her and Lexy met the day we had our first practice and it was clearly meant to be."
Lexy had been in another band, Whirr, before forming Night School. That connection led Night School to their record label, Graveface, based out of Savannah, Georgia: "We love Graveface, we're so very happy to be on this label. Ryan [owner of Graveface Records] is a great dude and we couldn't be happier," says Lexy. Their Heart Beat EP was born out of a toenail-painting hangout sesh turned jam sesh with the help of Garageband. While not recorded in a garage, they remain true to the garage-rock sound. Lexy admits, "I wanted to go for a heavier garage-y sounding version of the Ronettes or Shirelles on our EP. I've loved bands like that from the 60's since I was a kid and wanted to create the nostalgia that music has for me with a heavier sound. I changed it up slightly for the full length we just recorded. Tried to go for more of a Beach Boys meets Pinkerton sound."
When asked about their favorite songs to perform, Baylie responded with "Casanova," a track not on their current release, but coming out soon on their full-length album: "It's just easy to hop around and dance along with and the crowd gets excited when Lexy switches to the drums and I play guitar. As long as everyone is feelin' what we're playing, I have a great time." Lexy also says Casanova and playing the drums are her favorite, while Cheyenne mentioned another yet-to-be released track called "Hypnotized," which makes her feel hypnotized. Performing as a three-piece hasn't been without challenges, but Night School is getting the hang of things on their own. According to Lexy, "We've had a couple lead guitarists along the way who we've parted ways with for various reasons. After that, we just decided that we were stronger as a three-piece. Adjusting to performing as a three piece was a little hard, since now I'm playing the leads along with rhythm and vocals. But now that we've got the hang of it, we love it."
The gritty-angsty-punk sound I mentioned earlier comes out the most in their EP's third track, and my personal fave, "Casiotone." The whispery lyrics grow and build into a fierce growl backed by noisy guitar and just enough angry cymbal crashes to make you wanna punch something. This is the song that somehow shits on all other bittersweet breakup ballads and delivers the most gut-wrenching reminder of your last failed relationship. Yes, it does all of this in two minutes and fifty-four seconds, but the masochist in you will wish it was longer. It's written by Baylie, so I'll let her talk about it: "I wrote this song when I was 16 about my first actual boyfriend while we were dating. The name 'Casiotone' is a direct reference to the band Casiotone for the song 'Painfully Alone,' which was one of our favorite bands. The dog and the cat were characters in one of their music videos we really liked. The whole song is about that relationship. It was originally an acoustic love song but after we broke up on no-good terms it became emotional for me, which is why it's all distorted and shouty toward the end."
As far as other interesting tidbits are concerned, Night School chose their name because they thought it sounded cool. Lately they've been listening to Alvvays and Tony Molina, and they list Weezer as a constant favorite and inspiration for their upcoming album. If they could magically go back in time and see any dead or defunct band perform it would have to be either, "Zeppelin, because Zeppelin," or else "Black Sabbath for sure. First of all to be impressed at Tony Iommi for playing guitar without his fingertips haha, and secondly because they were just so cool and heavy." Baylie is creeped out by "home invaders… little green goblins, and pink eye." Lexy hates "dreams of my teeth falling out" and Cheyenne can't stand "prolonged eye contact." Stay tuned for Night School's upcoming album, Blush, due out later this year.